| | | |
| --- | --- | --- |
| | IN THIS ISSUE | |
Leadership Society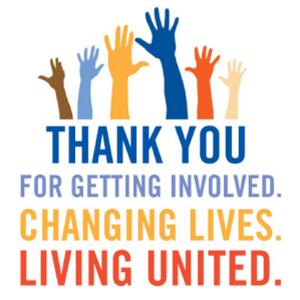 Leadership Registry: Thank you!
Thank you for being part of our
Leadership Society
and for your commitment to our community!
This Leadership Registry for the 2021 calendar year
is designed to recognize your outstanding generosity! When we read through the pages of this registry and see all the names and faces of those who supported United Way in 2021, we are struck with one amazing reflection:
This is what a caring community looks like!
Retire United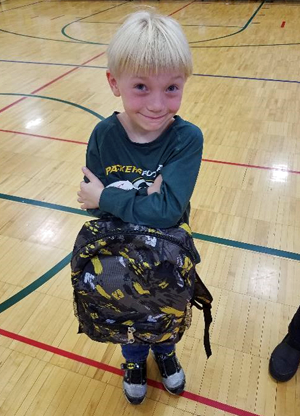 Backpack Coalition is Back!
The Backpack Coalition has been a
Retire United
signature volunteer event since 2016 and is returning this summer! Members will sort school supplies and fill backpacks that will later be distributed to students across Milwaukee and Waukesha Counties. Lend a hand! Register to volunteer for a three-hour shift or consider making a financial contribution to the program
here
.
Let's ensure every student is prepared for the new school year and has what they need to succeed. Contact
Bev Arrowood
with any questions.
Emerging Leaders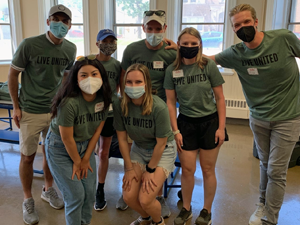 Emerging Leaders Day of Action 2022
In the month of June,
Emerging Leaders
volunteers spent a day at La Causa's Charter School for Early Education playing games with the kids and supporting teachers in their classrooms with fun summer activities. This partnership with La Causa allowed children in La Causa's Summer School Program to have access to adults that they could look up to as mentors. Thank you to all the Emerging Leader volunteers that braved the heat advisory to come out and do some good for the community!
If you are an individual in your 20s, 30s, and 40s and want to be more involved within your local community, contact
Audrey Kanthack
for details about how you can become a member and learn more about Emerging Leaders' work.
Our 2022 Philanthropic 5 Winners will be announced along with registration next week! Keep up to date with event details
here
.
Women United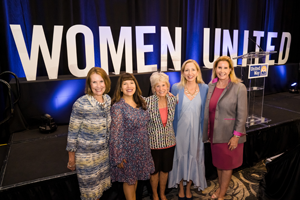 Women United Bruncheon, Celebrating 20 Years
On Wednesday, June 22, over 400 United Way donors, volunteers, nonprofit partners, and staff, gathered at the Italian Community Center to celebrate 20 years of
Women United
. The event was hosted by Women United co-chair, Julia Currie, and featured keynote speaker,
Maya Smart
, and Linda T. Mellowes "Woman Leader of the Year," Dr. Mary Kellner. This year's call to action is to support our Diaper Bank, which you can learn more about by
clicking here
.
Thank you to all of our sponsors including our first-time event sponsor, Baird. To see a full sponsor listing, and to watch the program, visit the event page.
LINC (Lead. Impact. Network. Change.)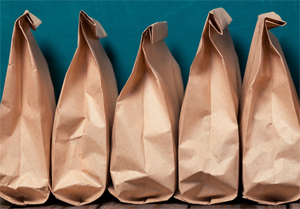 Supporting our Homeless Community
Friedens Community Ministries
is a United Way Agency Partner that runs a network of food pantries in Milwaukee that focus on nourishing the body, mind, and soul. They restore dignity among individuals who may have lost their sense of hope by providing both food and shelter. Members of the
LINC
Committee recently met at Estabrook Beer Garden to assemble over 200 care kits for Friedens' future needs.
LINC Committee members are young leaders who help plan events, attend exclusive LINC volunteer opportunities, and cultivate new volunteer ideas. LINC is actively seeking out new committee members – reach out to
Audrey Kanthack
for more details.
Pride United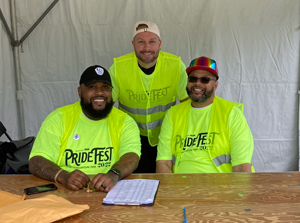 Pride United at PrideFest
Approximately 30 United Way staff and members of
Pride United
volunteered at PrideFest this June, offering security, scanning tickets, checking IDs, working the information booth, and much more. Many corporate and nonprofit agency partners joined us, including Molson Coors, Children's Hospital, Froedtert and the Medical College of Wisconsin, BMO Harris Bank, Diverse & Resilient, Vivent Health, and more! Volunteers gathered afterward for socializing and networking.
Diversity Leadership Society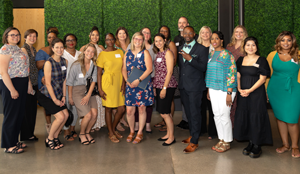 Congratulations, Project LEAD graduates!
On June 15, the
Diversity Leadership Society
celebrated the Spring 2022
Project LEAD
graduates! Speakers included Simba Gandari, Johnson Controls; Kat Klawes, UEDA/Project LEAD Alumna; and Samantha Mitchell, United Way of Greater Milwaukee & Waukesha County.
Are you interested in leadership roles on nonprofit boards and committees? Want to broaden your professional network? Join our next Project LEAD cohort. Enrollment for the Spring 2023 cohort opens in December. Email
Samantha Mitchell
to express interest.
Thank you to our sponsor, Johnson Controls!
Technology United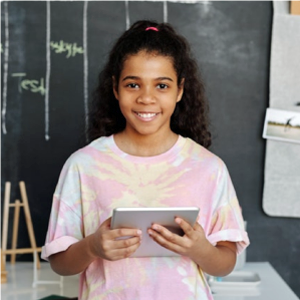 What is Technology United?
Technology United
members are technology professionals making a difference in our community through events, volunteerism, and advocacy focused on local students interested in technology. As a member, you will join a network of professionals using their energy, talent, and passion for positively affecting the lives of many. Contact
Stephanie Ziemke
to join or learn more.
Additional Ways to Make An Impact